How To Get Traffic For Affiliate Marketing. How To Get Started To Drive Traffic For Affiliate Marketing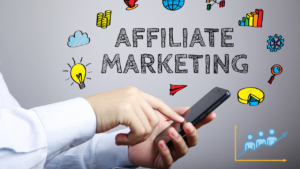 While there are many ways to drive traffic and generate revenue for your website rather than PPC. One of the most effective and low-risk methods is to join an affiliate marketing program. Affiliate marketing consists of a strategy where you partner with an affiliate to promote a particular product. 
You will provide this affiliate with links to your product that they will use on their website to market to their audience. In return for all this work, you will provide affiliates with a percentage of the profits from the sales they helped generate through their promotional efforts.
Not only do you make money because of someone else's work, but your affiliate will also send you traffic that you can direct to your website.
Why Affiliate Marketing Can Drive Traffic?
Affiliate marketing is a great way to increase sales, but it's also an excellent way to increase your blog's traffic. This is not because it links to your website as a result of the product being advertised, but because a customer will need to provide their email address to purchase your product, so besides increasing sales, you are building your email list; this is a great strategy to increase traffic to your blog as you can email these customers about new blog posts in the future. You probably think this is too easy to be true.
That's because you need it to sell something that affiliate marketers can promote – and we're not talking about an expensive physical product that customers have to order and ship to them.
We're talking about low-priced items that are available for immediate download – items you need to create. However, keep in mind that this strategy will not be very effective if you offer the product elsewhere. It should be a premium product that can only be purchased with your affiliate's promotion.
How To Get Started
First, you'll need a product that your affiliate marketers can promote. It should be a premium product in digital format that customers can download immediately. The sooner they have access to it, the more willing they will be to buy. The product should be "Wow" and deliver on its promise.
Products may include things like eBooks, add-ons, or tutorial videos. You just need to make sure that the product you're offering will be of value to the customer – it's not a bad product you put together just to take advantage of affiliate marketing as a way to increase your blog traffic. To do you a favor. Why would anyone bother with your blog if your eBook is worthless to them?
In fact, they will probably unsubscribe right after sending the first email as a result. Not to mention that your affiliates wouldn't want to be associated with a bad product because it undermines the trust they have built with their audience. Now let's talk about the price point.
Affiliate Marketing Trends
At the end of the day, remember that affiliate marketing is a way to boost your content marketing strategy. You are trying to gain exposure and improve traffic generation to your blog. The emails you receive help do just that – and you can continue to nurture them using your content as you use those leads to increase your blog's readership.
Unfortunately, there is a trend where there are some businesses that think affiliate marketing is a way to skip the content marketing step. If you've already captured leads for your email list, who needs a blog with good content?
The thing is, if you can't provide them with good content, you can't nurture them and convert them into customers. In fact, if that's your way of thinking, most of your emails will be flagged as spam by all those new leads you caught during the sale of your product.
Since affiliate marketing has caught on in such a big way, expectations from affiliate marketers are also rising. They require their suppliers to provide special sales pages or webinars in addition to bonuses to complement the main product. For example: Long tail Pro JV have prepared 5 bonuses for this launch to ensure high conversion rate.