Amazon vs Walmart. Difference Between Walmart and Amazon. Which is Better?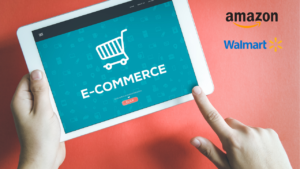 E-commerce giant Amazon, which has grown rapidly in recent years by taking advantage of the advantages of online shopping, has become the nightmare of retail companies that attach importance to traditional merchandising. But there are still some retail companies that can challenge Amazon. Walmart is one of them.
Encouraged by an epidemic-induced increase in digital sales, Walmart has decided to challenge Amazon's dominance in the e-commerce arena. Walmart is probably the only retailer that can rival Amazon with its financial resources and logistics power.
Walmart or Amazon?
According to a survey by Jungle Scout, an app for Amazon sellers, 39 percent of Amazon sellers are considering Walmart this year. 54% of these sellers are sellers with more than 10 active product listings on Amazon.
The two biggest reasons these sellers are considering leaving Amazon are said to be that Amazon has suspended many sellers' accounts without a satisfactory explanation, and that responses to appeals have been made too late.
The fact that Walmart can still compete with Amazon is because it can do certain things better than it does and take advantage of some of the physical merchandising. Business Insider reviewed the two companies and listed Walmart's advantages over Amazon and some of the things it does better than Amazon.
No Subscription Free Delivery
Amazon offers free shipping to Prime members. However, a one-year Prime membership costs $119, and because of this cost, many people do not prefer to use the Prime service. In contrast, Walmart offers free shipping on any online order over $35, no membership required.
Instant Access to Products
Amazon offers Prime members the option of two-day delivery. This is an advantageous service for busy people who do not have time to go to a physical store and buy the product they want in person. However, if the customer needs the product immediately, it may not work for them to buy it from Amazon.
By contrast, most Walmart stores are open 24 hours a day, seven days a week (except for Christmas). This means that even in the middle of the night, people can buy any product they need urgently at a Walmart store near them.
Amazon's Refund Process is Better
According to Business Insider, Walmart's website is easy to navigate, but the checkout process isn't as convenient as Amazon's. However, when it comes to the returns process, Walmart makes things easier for customers compared to Amazon.
Walmart Prices are More Affordable
If you compare the prices of similar products at Walmart and Amazon, you'll find that in general the prices at Walmart are lower. And even though Walmart's prices are higher, the retail company offers its customers a "price match guarantee."
Regardless, Walmart is far from catching up with Amazon. However, it has made significant progress. With its growing array of online products and services, it would be fair to say that Walmart has reached a point where it can challenge Amazon's dominance!