Advantages Of eCommerce. Benefits of eCommerce for Businesses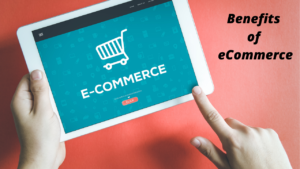 We can say that we are in the middle of one of the fastest changing processes that technology has ever seen. People who were not aware of information technology until three or five years ago have become unlimited users of information today. The reality underlying this change is globalization, which is too important a concept to be summarized with technology.
What is E-Commerce
Electronic Commerce or "E-Commerce" is generally defined as the act of purchasing goods and/or services on the internet. It is possible to see virtual stores or virtual shopping centers on every website, especially as today's hot topic.
In addition to the fact that e-commerce, product and service purchasing/selling activity is carried out through computer networks; to create demand for the offered product (marketing), to provide customer support (at all stages of sales), to provide commercial and logistics communication between commercial institutions and their customers, again through global computer networks. In addition, they are systems that facilitate the management of the company.
Benefits of E-Commerce
The company has a branch open 24/7 where it can provide information to its customers over the internet.

It saves time as data is transferred electronically within seconds.

More product options are offered for the customer.

Your virtual store can reduce your financial burden.

Since the stock and cost information is in electronic form, the supplier company does not have to stock up. He knows how many products he has in stock and how many of these products he has sold.

It allows the supplier to create a virtual shopping center over the internet without the need for a large office.

In a global environment such as the Internet, there will be no damage due to inflation, as there will be no easy fluctuations.
Benefits by the customer
It allows users to shop quickly without leaving home.

The transportation cost of product price research is eliminated.

Finds the opportunity to choose by seeing more product types.

It is easier for you to find the product that fits your needs.

It has clearer information about the product thanks to the comments made by the users of the product.
Benefits by the seller
Companies have a low cost and accessible store where they can sell their products.

It is a platform where it can present detailed information about its products.

They can sell according to the demand without having stock.

It has a high opportunity to find new customers not only in the region where it operates, but also in the world.

Its accessibility becomes easier.
In our globalizing world, companies have found the opportunity to market their products all over the world in the most economical and in the shortest time possible, with the development of new marketing strategies, by enabling them to reach a large number of people quickly, with electronic commerce, which has started to be done with the combination of mobile technologies with the internet.
However, companies using these technologies have increased their market shares. With the opportunity to choose from a wide range of products, consumers can obtain products cheaper and make their payments, the service or product they purchase is delivered to them and they are not affected by the shipping fee.
Thanks to electronic commerce, businesses create a more effective supply and distribution chain, reduce transaction costs, and can reach both national and international markets more easily due to the reduction of market entry barriers. In addition to reducing transaction costs, e-commerce provides some cost advantages to businesses by eliminating traditional intermediaries in some sectors.