Where to Buy Barcodes for Music: A Guide for Independent Musicians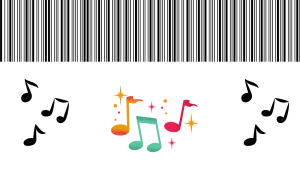 As an independent musician, you want to get your music out there and make it available for purchase. One of the key elements to selling your music is having a unique barcode for each album or single. Barcodes are essential for inventory tracking and sales management, and they are required by most retailers and distributors.
So where can you buy barcodes for your music? Here are some options to consider:
GS1: GS1 is a global standards organization that provides unique identification numbers for products, including barcodes. GS1 barcodes are recognized by retailers and distributors worldwide, and they are required by many of them. You can purchase GS1 barcodes online, and they come in packages of 10, 100, or 1000.
Online Barcode Resellers: There are several online resellers that offer barcodes for sale at a lower cost than GS1. These barcodes are not recognized by all retailers and distributors, but they may be suitable for independent musicians who are selling their music primarily online. There are some popular online barcode resellers online. I recommend BuyBarcodesCheap.com website. No hidden charges or fees. Once you buy your barcodes that's it! There are no membership fees, no renewal fees, and your barcodes will never expire. Lifetime Guarantee! Click here to see its pricing!
CD Duplication Services: If you're working with a CD duplication service to produce your physical albums, they may offer barcode creation services as well. Check with your duplication service provider to see if they offer this service.
Music Distributors: Some music distributors, such as CD Baby and Tunecore, offer barcode creation services as part of their distribution packages. This can be a convenient option if you're planning to distribute your music through these services.
No matter where you purchase your barcodes, make sure they are unique to your album or single and that they are compatible with the retailers and distributors you plan to work with. Barcodes are an essential part of selling your music, so take the time to do your research and choose the best option for your needs.