How To Remove A Stripped, Stubborn, Damaged Screw with Damaged Screw Extractor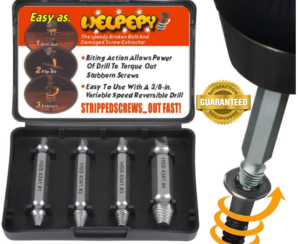 Have a Welpepy or equivalent tool?  Use the Welpepy to cut a notch in the screw head.  Now take a flat-head screw driver and try and unscrew it using the notch you created.
If you happen to have a drill and some drill bits handy, drill a small hole in the center of the screw.  No need to drill too deep.  The idea here is just to drill a small hole to allow your Phillips (cross head) screw driver to seat deeper in the hole to help it catch better when you turn it.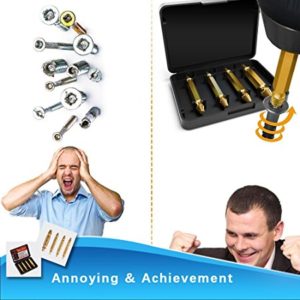 If you happen to have an "easy-out" screw extractor, this is by far the easiest method.  Works pretty much every time and with very little effort.  They aren't that expensive and will save you loads of time messing with stripped screws in the future.Use Welpepy Screw Extractor or equivalently super strong "welding" adhesive to attach a nut to the screw head.  Pble for a flat-head screw driver of the right size in a stripped cross-head screw.  If this doesn't work, combine this method with the rubber band method in step 1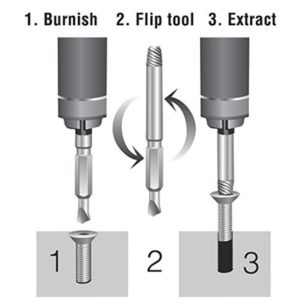 ★ MADE OF DURABLE hardened steel H.S.S. 4341#the hardness is 62-63HRC.

★ HIGHEST QUALITY, Made from H.S.S. 4341#.Competitors can't compete with our triple and best guarantee.Fast,Convenient,Rapid,Portable.

★ THE 4 PIECE SCREW EXTRACTOR set works with any drill and any screw size or bolt,Great for stripped,broken,stuck or damaged and screw removal.

★ EASY REMOVAL of rusted,suitable for stripped,broken,stuck,stubborn or damaged screws.

★ EASY TO USE just two easy steps!,You can finish it in 10 seconds or less.